We have thousands of different frame samples to choose from, such as understated aluminum frames, polished hardwoods, modern lacquers and metallics, rustic natural woods, and classic gold and silver ornate mouldings. We're here to guide you through the selection process, and help you narrow down what works for the art, your personal taste and your budget. Whether you prefer a simpler, more understated finish, or want to go for something brightly coloured and textured, we've got you covered.
Our suppliers include the top distributors in Canada, such as Larson Juhl, Fotiou, Omega and Roma Mouldings.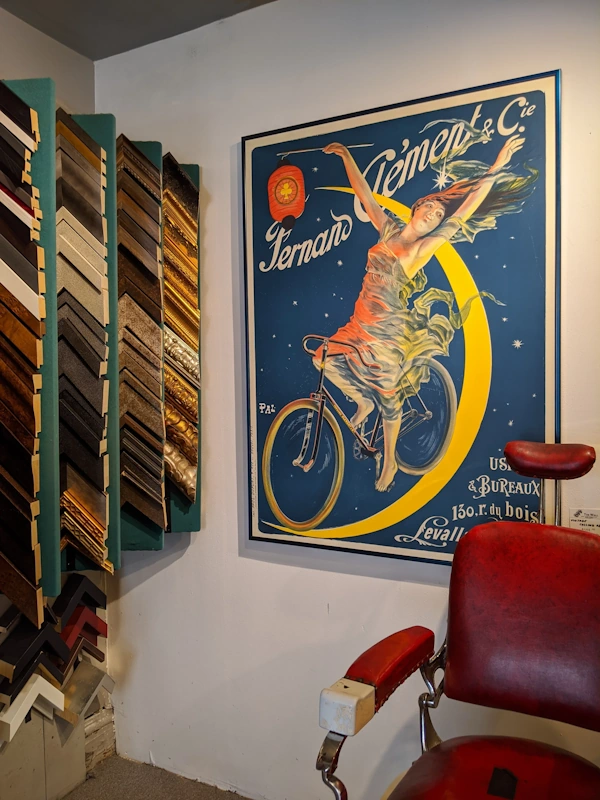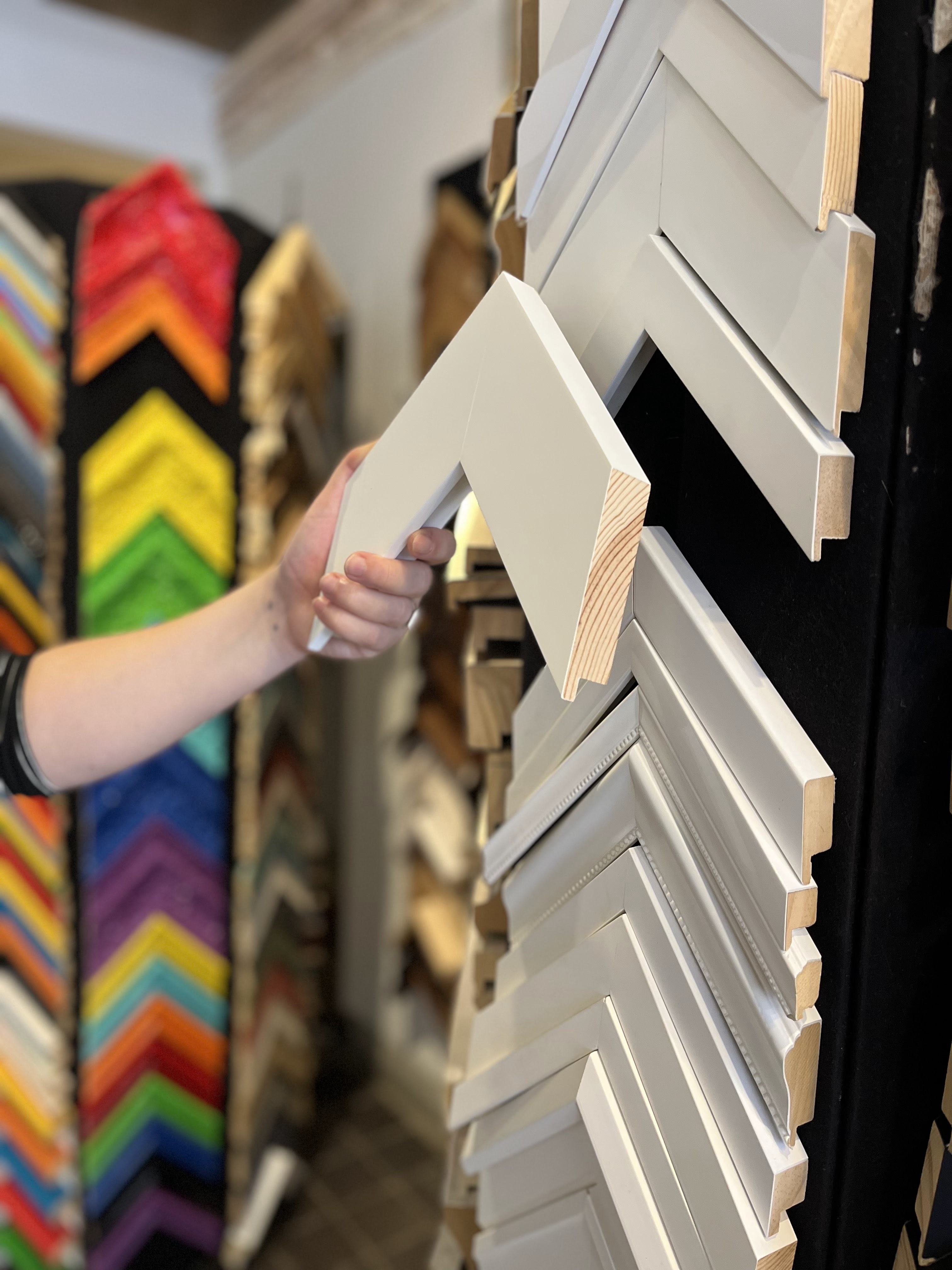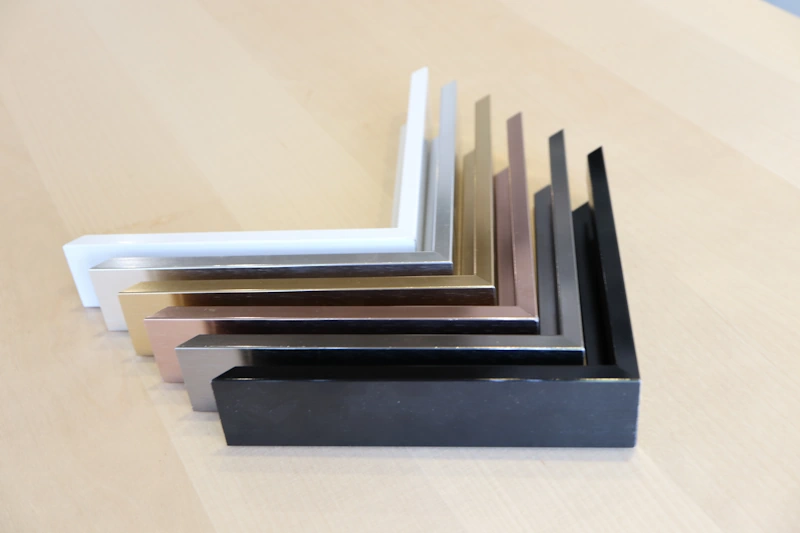 FINE ART ARCHIVAL FRAMING
The goal here is to make sure your art is protected against acid-wear, UV damage and ensure the art remains in its original condition for years to come, with the framing being totally reversible. If the medium is paper, this means making sure your art is protected against the damaging effects of the sun, using UV protective glass.

We offer a number of different options within this category such as:
TruVue Conservation Clear - Offers 99% UV protection, without reflection control. A responsible choice.
Ultravue 70% - Spectacular clarity and reflection control, with 70% UV protection. Basically like SPF 30 for your art!
Museum Glass - Full spectrum UV protection, blocks up to 99% of UV rays. The best of the best!
Another thing that is paramount when considering archival framing, is making sure the glass is kept well away from the art. This allows for air flow, and ensures moisture does not permeate the art. We commonly achieve that by using matting; the bevelled edges make sure the glass is not touching the art.

Matting creates a border, which is not only functional, but creates a pleasant aesthetic. We make certain to only use acid and lignin-free mat and backing boards, which means they will not create any damage due to acidity or colour change over time (if protected with appropriate glass!)

We also offer other ways to achieve adequate space between your art and glass, should you not want matting. We use acrylic spacers, which hide under the lip of the frame, and raise the glass 1/8" to 1/4", depending on your needs.
PHOTOGRAPHY
Whether it be family photos, or a limited edition signed by a famed photographer, we've got you covered. Photos developed on traditional paper are generally prone to rippling, once under glass. This can make an otherwise nice framing job look poorly done, so we will often suggest dry mounting your replaceable photos, to ensure they look their absolute best in a frame. Because dry mounting is a permanent procedure, we advise against it for limited edition photography, and generally recommend a more archival framing application.
POSTERS
Not everything requires museum quality framing. We offer affordable solutions for simple posters and prints that won't break the bank, but still look great!
SHADOWBOXES
Generally applied when framing an object. This requires a deep frame, with spacers built in to create significant distance between the framed object and the glass. We have framed everything from golf balls, to ballet slippers, to gigantic pieces of coral!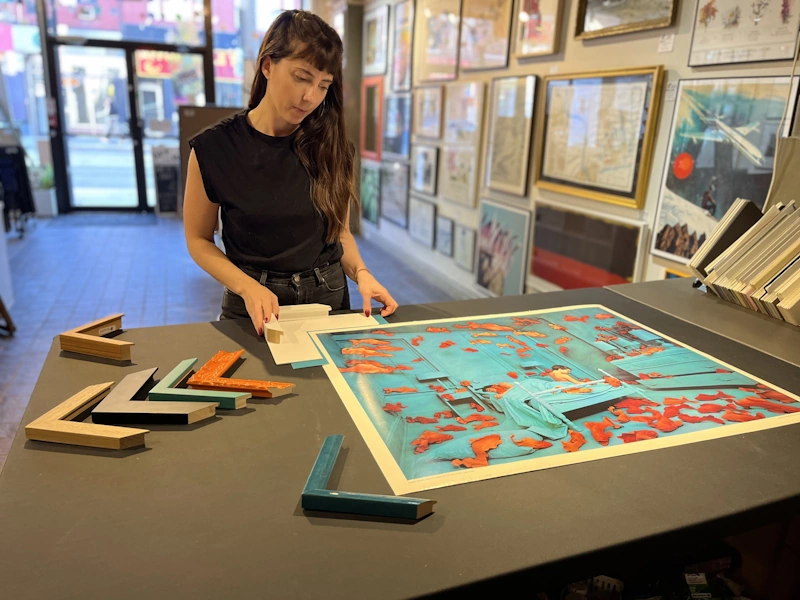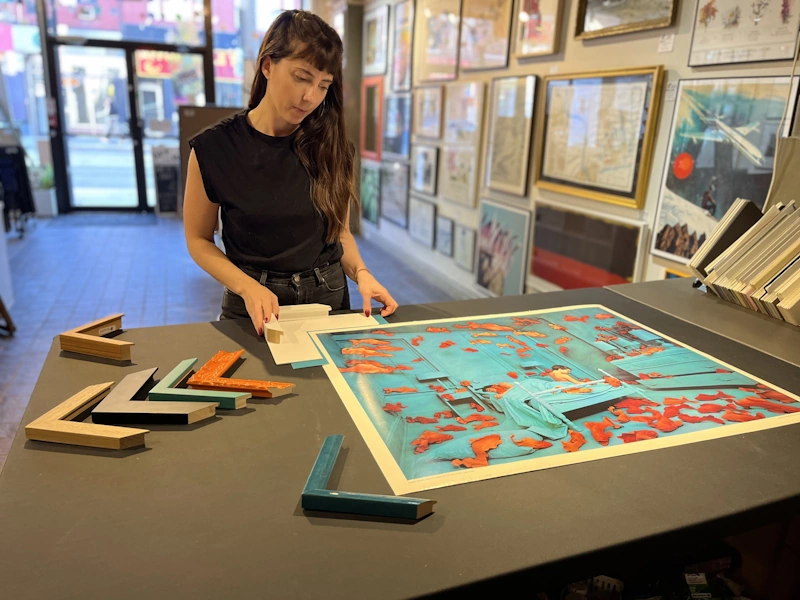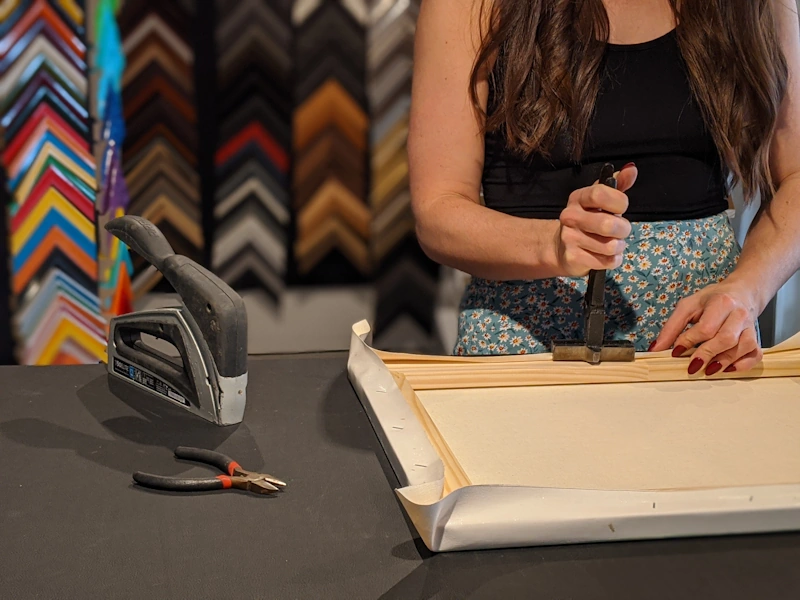 CANVAS STRETCHING
Original art and prints on canvas require totally different framing than paper. The beauty of canvas, means you do not require glass. This results in a lighter, glare-free finished product. Stretching involves wrapping the canvas around a raw wooden frame, and securing it with staples, so it is taut like a drum. We offer multiple depths of kiln dried stretcher frames, ranging from .5 - 3 inches.

You can hang up your stretched canvas with or without an additional frame - it all depends on the look you want. Our collection ranges from modern, streamlined floater frames, to ornate frames suitable for a renaissance painting - built to any size.
PLAQUE MOUNTING/LAMINATION
Plaque mounting is a cost effective framing alternative, which involves mounting your poster, print, newspaper article etc onto a 3/8" deep MDF board. A matte laminate is then applied, which keeps the piece protected from dust/moisture and also offers a UV protective component. The edges are bevelled, and you can select the colour from a number of different options.
REPAIRS/REFRAMING
Maybe you inherited a piece of art that is in dire need of a refresh? Maybe you regret a frame choice you made in the 90s at Michaels? Let us give your art a makeover. Sometimes all you need is a new mat, and sometimes you need a complete do over. We're here to take your art into this century, with a timeless framing job that can make all of the difference.

We also offer re-hinging, hardware and glass replacement, with or without assembly.
RUSH FRAMING
In some case, we offer same day service. This is limited to in stock mat colours and frame profiles, not exceeding 32" x 40". While our turnaround time is typically within 1-2 weeks for an average order, we do our best to accommodate your deadlines whenever possible.
There are many different reasons why custom framing is such challenging, yet satisfying work, but one of the top ones is problem solving. We pride ourselves in our ability tackle anything with care, creativity and expertise.